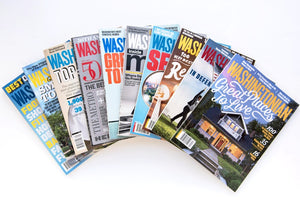 2 Year Subscription to Washingtonian Magazine
Washingtonian
Regular price $49.95 $29.95 Sale
Subscribe now to get 24 issues of Washingtonian—now with free digital access!
This is a 2 year subscription. Looking for a 1 year subscription instead?
You'll save a substantial amount over our newsstand rate of $4.99/issue—which would be $119.76 for two years.
Washingtonian, the magazine Washington lives by, is the region's top source of information for dining, shopping, entertainment, and personalities. It has been Washington's most trusted guide to living, working, and playing in the area for more than four decades thanks to features like "100 Very Best Restaurants," "Top Doctors," and "Great Places to Live." The print magazine is read each month by more than 400,000 people, who spend an average of 96 minutes with each issue and save each issue for an average of five months. Washingtonian is a five-time National Magazine Award winner for its reporting and writing.
Print subscriptions begin within 4-6 weeks.