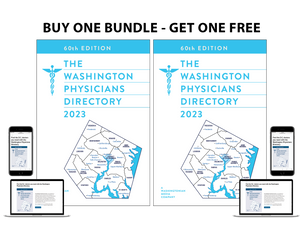 EXTENDED Black Friday BOGO BUNDLE
Washingtonian
Regular price $160.00 $126.00 Sale
EXTENDED!!!
BLACK FRIDAY SPECIAL! BOGO - Buy one Washington Physicians Directory Bundle, get another for free! 
The Washington Physicians Directory is the one source for complete and accurate information for the Washington, D.C. metropolitan medical community. For 60 years we have provided instant communication within this ever-expanding network, and we pride ourselves on our thoroughness.  If you need to stay in touch with the Washington area medical community, you need us! Printed November 2023.
When ordering, please send email addresses to wpd@wpdnetwork.com
Sale ends Friday, December 8th at midnight!