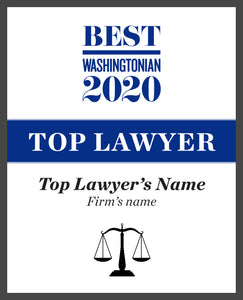 Washingtonian Top Lawyer Plaque
Please note: If you want to purchase a 2022 Top Lawyer plaque, please click here. This form is only for plaque orders prior to 2022.
Display your Washingtonian Top Lawyer honor to colleagues and clients with an official plaque. The 8"x10" wooden plaque has a painted gold, beveled edge. 
 **Please note that this item is only available for lawyers chosen by Washingtonian for inclusion in our printed list of Top Lawyers. Your purchase will be refunded if you are not included in Washingtonian's published list.
A proof of the plaque design will be e-mailed for your approval.
A number of companies cold-call subjects of stories in city magazines to sell plaques. They are not associated with Washingtonian. Only Washingtonian has legal access to the magazine's copy, photography, covers, and logos.
Regular price $100.00 Sale